Mamanista! » Daddy Blogs, Friday Playgroup, Mommy Blogs, Parenting Blogs » Friday Playgroup: October 5, 2007
Growing up and getting creative:
Celebrating with carnivals AND prizes:
And on a more serious note:
Nice Matters: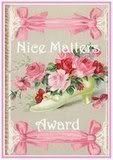 Christine at From Dates to Diapers was nice enough to pass along the "Nice Matters" award to Mama Luxe. I don't think "nice" is strong enough to cut it–there are so many generous, warm, and open bloggers who we enjoy reading, including Christine.
So, we hereby pass this award to some of the sweetest bloggers we know: Liz at Mom-101 who is kind to bloggers just starting out, Michelle at Scribbit who takes the time to help build community, and Amy at Crunchy Domestic Goddess who is always sharing helpful information. I'm sticking with the female bloggers because the award looks all girly and stuff, but there are a bunch of kind Daddy Bloggers, too. There are a ton more female bloggers who would fit this award, including those who describe themselves as "mean" or "sarcastic" or "edgy"–they are all big softies when push comes to shove. In fact, I haven't met any "not nice" bloggers in this parent blogging community…

And some shameless plug reminders:
Filed under: Daddy Blogs, Friday Playgroup, Mommy Blogs, Parenting Blogs