Mamanista! » Cleaning, Germ Protection, Health, Tips, Uncategorized » Kill Germs and Dust Mites with the Oreck Halo
February 27th, 2009 | 10 Comments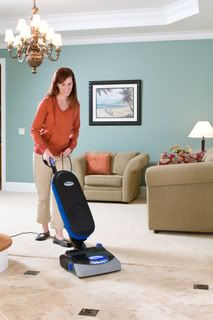 Tests have shown that there are more germs on household floor surfaces than on toilet seats, kitchen counters and bathroom tiles combined. While exposure to some germs may help build children's immune systems, allergens like mold, dust mites are a leading trigger of allergy and asthma systems in both children and adults.
Regular vacuums alone– even those with HEPA filters– can't kill the dust mites. Since carpet can contain as many as 100,000 dust mites per square yard, allergists often suggest ripping out carpets. But who wants to live and play in a house with cold, bare floors?   
Since I have dust and mold allergies, I jumped at the chance to review the new Oreck Halo. The Oreck Halo is the world's only upright vacuum that uses ultraviolet light to clean and kill germs, bacteria, viruses, allergens and mold. I love the idea of vacuuming and killing germs in just one step.
The Oreck Halo has been independently tested by top scientists, and the UV-C light has been proven to kill more than 99.9% of common germs and more than 90% of dust mite eggs. The UV-C technology has been safely used for many years to sterilize hospital operating rooms and to purify drinking water. Best of all, the UV-C light neutralizes germs, allergens and dust mites without any chemicals or pesticides.
The UV-C light has been tested and should not harm or fade floors or carpets if used properly. Built-in safety features protect people and pets from the UV light. The light will not function if you release the trigger on the handle, and it will turn off unless all four wheels of the Oreck are placed flat on the ground. The patented light chamber has a durable quartz glass plate encasing the UV-C light to reduce the risk of breaking the glass, and Oreck has tested the durability by dropping the vacuum and striking the glass with a ball-peen hammer.  
At 17 pounds, the Oreck Halo is noticeably heavier than other Oreck models but still lighter than my other vacuums. The basic ergonomics of the Oreck are excellent- comfortable hand grip, telescoping handle, and the ability to turn the "brushroll" off with the flick of a button to seamlessly transition between carpets and barefloors. The included attachments made it easy to clean drapes, upholstery and those pesky wall-to-wall carpet edges and corners.
Like many other Oreck models, the Halo features a HEPA 13 filter bag for maximum filtration and home air quality, and Oreck's patented Sani-Seal tab prevents dirt, germs and allergens from escaping when the bag is replaced. 
Oreck has a reputation for durability and service. My mother's Oreck has lasted for over a decade…and is still working, and my late grandmother kept an Oreck vacuum in good working order for nearly 20 years. The Oreck Halo comes with a 3 year warranty that includes 3 free annual tune-ups and a 5 year warranty on the UV-C bulb. I hope the Halo will be as reliable for me as my mother's Oreck has been for her.
 
The Oreck Halo is available for $599.95 on Oreck's Web site (www.oreck.com), in 450 Oreck Clean Home Centers nationwide or by calling Oreck directly at 888.600.HALO (888.600.4256).
Debbie Bookstaber started Mamanista in 2007 with her friend Candace Lindemann. Debbie and Candace also are the co-founders of Bloganthropy.org, which empowers bloggers to become philanthropic leaders in their communities. Through their annual awards, Bloganthropy.org recognizes bloggers who effectively use social media for social good. Debbie lives in the Philadelphia suburbs with her husband and two young sons. She's an active volunteer in her community and a working mom. Debbie is a partner at Element Associates and the Social Media Director at Child's Play Communications. You can follow Debbie on Twitter @buzzmommy or meet her at a future blogging or tech conference, where she frequently speaks about social good efforts, SEO or affiliate marketing.
Filed under: Cleaning, Germ Protection, Health, Tips, Uncategorized · Tags: Allergies, Cleaning, Dust Mites, Germ-Free, Homekeeping, Oreck Halo Review
Browse Our Reviews
The opinions expressed on Mamanista.com are based on a single consumer user testing, and are solely those of the author.
Any factual claims, including but not limited to safety testing, are based on information from the manufacturer.
Mamanista.com receives sample products for testing. Paid placements, such as announcements of sales or sponsored contests are clearly marked.