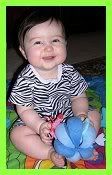 With the latest recalls, many parents are turning to handmade artisan toys and items made in nations with higher safety standards. As consumers, we have to ensure the toy companies are holding their factories to the highest standards.
HABA toys and accessories are mostly made from cloth and wood and have an old world charm that will win over parents and kids. Although their cloth toys are made in China, their painted wood toys are usually manufactured in Germany.
Oompa Toys has a great selection of unique, natural, wooden, cloth, and European toys, like HABA. Check out this helpful list of where different brands available at Oompa produce their toys.
Another great store for lead-free toys is Duck Duck Goose Get 10% off with coupon code groove…plus free shipping on all orders $60 and up!
If your toys are not on the recall lists, but you are still concerned about whether or not they have lead-based paint, try a Instant Lead Testing Kit (8 for $29.95). Or check out a variety of single test packs ($7-10).
False negatives are possible, but positive results reliably indicate the presence of lead. To make sure your family is protected, monitor recalls, research where your children's toys are manufactured, and stay alert and aware.