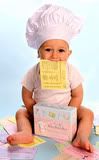 Once we left the realm of purees for baby, I was a bit mystified. Is this enough food? How large should the bites be? What sort of quick dishes will appeal to my little one?
Baby has always ate well, but I want to encourage her to continue enjoying her food. My usual favorite references were of little assistance. They would contain some basic information about which veggies to introduce first and remind me to check the temperature of food–but not much else.
Now I have everything I need to know about feeding my kid at my finger tips in the Toddler Bistro Box. Bistro Box Brands also carries the Baby Bistro Box–their original product. Each recipe card contains tips for safe, healthy, and yummy meals for your child. The conversational style is easy to read and understand, just like having your best friend cooking with you–if your best friend is also a nutritionist.
The recipe card format makes it easy to browse. Since each card contains interesting and important information, you're sure to find out something new every time you look at the box.
The only caveat is there is a lot of information in the box and there is no index. With my active toddler, I have to keep the box out of her reach or the filing system is disrupted. I will probably keep the quick reference tips, recipes, and shopping list in the box and move some of the other cards into a small photo album for when I need more in-depth information.
There are some great suggestions in the box for safely enlisting your toddler as a mini sous-chef, making mealtime an enjoyable experience for all, when and how to address picky eating, and which are the best foods for growing brains and bodies.
While leafing through the cards, I received a much needed reminder: we are our children's food role model. So, it is probably not a good thing that my 16 month old can show you where Mommy's chocolate is. The Bistro Box covers not only what we put into their mouths, but also into their minds.
I also appreciate that most of the recipes are incredibly quick and simple–this family of entrepreneurs understands that we want to spend less time in the kitchen, and more time enjoying our own families.
Whether you are completely lost as to how to feed a toddler or just need to add to your toolbox, the Toddler Bistro Box will give you plenty of ideas.
—
WANT IT: Buy the Baby or Toddler Bistro Box and save 10% with coupon code: MWS607
WIN IT: Baby Bistro Brands is offering one lucky Mamanista reader a Toddler Bistro Box. Click HERE to visit Bistro Box Brands and leave a comment by 10 pm EST, Wednesday, December 19, letting us know which section of the Bistro Box you would turn to first (check out "The Menu"). Make sure to either leave a URL or e-mail where we can reach you or use a nickname on your comment and then let us know.