Once that little one enters your life, it is All About Baby. A personalized baby gift is a sweet way to welcome a new infant to the world.
All About Baby brings you a selection of candy-colored, cute, whimsical gifts, many of which are stitched or hand-painted with your child's name.
My Baby has this adorable personalized fleece hat. The material is so cozy and warm and she brings it to me whenever she wants to go play outside. The stitching is quite lovely and the little pom pom brings a smile to all who spot us out and about.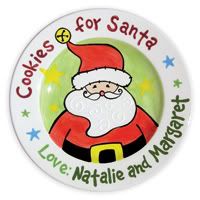 At All About Baby, you can find a variety of personalized cuddly hooded towels (always a favorite shower gift), cute accessories, frames, and nursery decor. Next year, I'd like this Personalized Cookie Plate for Santa. You can also read up to get ready for your new arrival, with articles on How to Prepare for Baby and How to Create a Time Capsule for your Baby.
All About Baby will make you a hit at the next shower with personalized gifts so darling you're sure to hear "awww…"
—
GET IT: Purchase personalize baby gifts at All About Baby and use coupon code ABSD for 20% off (does not apply to shipping – expires 4/30/08).