Mamanista! » Attachment Parenting, Baby Carriers, Celebrity Babies, Dad, Slings » Babywearing Daddy Liev Schreiber
August 29th, 2007 | 15 Comments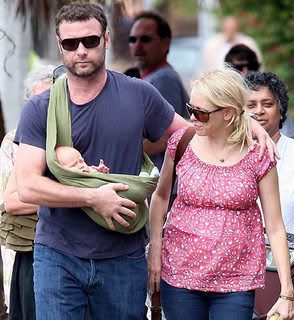 Here is Naomi Watts with Liev Schreiber carrying Alexander in a Lightly Padded Maya Wrap Sling in Olive (fabric 58), available for $53.15. He's got the rings on his back–which some people prefer for newborns.
The sling is 100% hand loomed cotton fabric and the dyes do not contain any poisonous substance. Here's another source for Maya Wraps ($55.95).
Check out PopSugar for an image of Liev Schreiber using the rings in front and a more comfortable shoulder positioning. (thanks for the link, Fairy Godmum!)
I love seeing a man using a baby carrier. It just warms my heart!
Here's our Babywearing Daddy.
Filed under: Attachment Parenting, Baby Carriers, Celebrity Babies, Dad, Slings
Browse Our Reviews
The opinions expressed on Mamanista.com are based on a single consumer user testing, and are solely those of the author.
Any factual claims, including but not limited to safety testing, are based on information from the manufacturer.
Mamanista.com receives sample products for testing. Paid placements, such as announcements of sales or sponsored contests are clearly marked.