Mamanista loves combining the fabulously chic with the irresistibly practical…and a baby can never have too many hooded towels!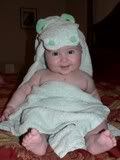 Baby Diva loves her bath and she loves her hooded towels. I wish someone would give me a luxurious bath, wrap me in a fluffy hooded towel, then put me in some footies and tuck me in for bedtime.
One of our favorite hooded towels is her gator towel by Mullins Square. The thick, absorbent 100% terry cloth is manufactured by a luxury textile company. Then, Mullins Square takes a generous 27″ x 50″ towel and adds animal features, crafting a product that manages to be whimsical without being cloyingly cutesy.
This adorable baby shower gift is available in:
"Lion Tubbie Towel by Mullins Square" for that brand new Leo or a baby with a Safari-themed nursery, "Doggie Tubbie Towel by Mullins Square" for families that love man's best friend, "Panda Tubbie Towel by Mullins Square" for an instant connection with the environment: all these designs plus other fun creature creations are $36 at InvitationBox.com

SHOP.COM also has this fun, feminine, 50s-inspired
Mullins Square Pink Poddle Tubbie Towel for $40. If you are shopping at SHOP.COM, make sure to check out our Coupons Tab for great deals!


Mullins Square also makes equally sweet and adorable bibs, costumes, bath mitts, and more!
"Puppy Bath Puppet by Mullins Square" or "Kitty Bath Puppet by Mullins Square" ($8) at InvitationBox.com; also available as a Duck or Pink Bear. These are very reasonably price and are sure to be a hit at baby's bathtime.