The increased visibility of Celebrity Babies has led some to joke that babies are the new "Black"–this season's must have. So, it is no surprise that these hip parents are dressing their little ones in classic black. Shiloh Jolie-Pitt looks chic dressed like her mom and dad in this recent photo.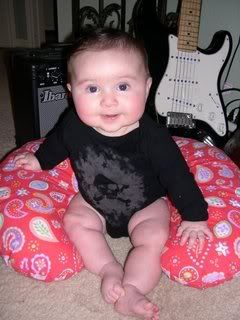 Most of us know (hopefully!) that babies are hard work and important little people in their own rights, not trendy accessories. Still, dressing up baby can be a fun privilege of parenthood.
As celebrity style filters down to the budgets of the rest of us "mere mortals," more and more black clothing for babies is becoming available at retail outlets.
Some black clothes for baby girls include femine details, like this punktastic dress, originally intended for Valentine's Day but still available online (I'm getting one for Baby Diva for $7.99), or this cute onesie available in Ebony ($4.99–a steal!) from Target.
Other tees and onesies work equally well on boys and girls, like this Oldnavy.com "New School Tee" ($9.50 – Check out the Oldnavy.com Baby Boys' Boutique, Hip Hop Tot) this Rock Star Embroidered Onesie
(Babies R' Us – $26.99), or the Peace Onesie (PoshTots.com – $25).

Black can go all year around, but if you prefer a softer alternative for summer, check out the babyGap.com Safari collection or this chocolate dress from Oldnavy.com:

Black and brown will never replace pink and lavender (Baby Diva's signature color) for girls and blue for boys, or neutrals like yellow and, Mama Luxe's favorite baby neutral, sage green. However, these timeless hues are a sophisticated addition to any baby's wardrobe.