Combining old-world charm with progressive design, HABA produces high-quality, but affordable toys for babies. Like the handcrafted toys of yesteryear, most of HABA's items are made out of wood (naturally germ-resistant) and cloth. With stories in the news about the possible dangers of plastic toys, the safety-appeal of these more natural materials is clear.
HABA's toys also have a sweetness and durability that shiny plastic and metal just cannot match. When I opened up the package, I felt instantly transported to an earlier era, before television became everyone's favorite babysitter. These toys are far better for sparking little imaginations!
Our first toy to test was a sweet flower wrist rattle. Pediatric development experts recommend wrist rattles for helping infants to develop self-awareness, hand-eye coordination, and attention span. Baby Diva passed this one off to Chunker, a younger, less fidgety baby on the Mamanista! Baby J.V. Squad.
Chunker and her mom report that the HABA wrist rattle was a huge hit! Chunker loved the crinkly and rattling noises she could make and was captivated by the sparkly mirrored surface. The rattle is so adorable, Chunker's older sister, a toddler, tried to steal it as a bracelet.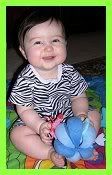 Baby Diva practiced her growing object permanence awareness and improving coordination with the next HABA Toy–the Animal Den. The Animal Den brings a variety of fun to playtime. We rolled the ball around the floor. The sections allowed Baby Diva to get a good grip on the toy. Even better, the Animal Den has a hidden surprise–colorful peekaboo animals that squeak, crinkle, and delight. We had a lot of fun pulling each animal out of its den and then returning the creature to its hiding spot. The Animal Den is great physical and mental exercise for older babies.
Since HABA has plenty of products for the older kid set, I think this is the start of a beautiful relationship. I could spend hours just browsing all of their imaginative puzzles, career-themed play sets, dolls that actually dress like children, pretty accessories, and whimsical furniture all sure to inspire hours of pretend.
Where to buy: HABA is available at Oompa Toys