So, you need a unique baby gift for your favorite chic new mama, but you do not have time to sift through endless websites and catalogs? Wouldn't it be great if someone saved you the effort and gathered all the hippest, trendiest and funkiest baby gifts from all over the globe in one user-friendly Internet store? Look no further than Baby Dagny.
Baby Dagny has already selected the best in innovative, fun, and chic for babies, like the "Oscar-winning" WubbaNub (the WubbaNub was included in the Academy Award Gift Bags for Baby Crazy Hollywood).
When Baby Diva was about three months' old, Super Dad turned to me, bleary-eyed and exhausted, and asked, "How long until she can find the pacifier herself at night?"
Boy do I wish we had known about the WubbaNub back then!
Baby Dagny's signature purple frog WubbaNub is part pacifier, part lovey, all comfort. No more desperate searching for a lost pacifier in the dark or, worse, while trying to drive! Baby can easily find the cuddly and colorful WubbaNub herself.
And you can relax enjoy your extended sleep, knowing that the WubbaNub is made from medical-grade silicone and stuffed with beans in separate safety sacks.
Baby Dagny has the right mix of stylish luxury items, useful gear, and adorable and affordable gifts. The exclusive purple frog WubbaNub, the rest of the WubbaNub crew, and plenty of other "wish-I-had-thought-of-that" cool baby items are available at Baby Dagny.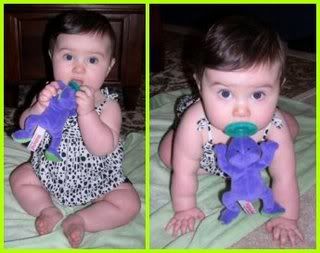 Right now new Baby Dagny subscribers can get an instant $20 gift certificate. Those who are already in-the-know can use promo code Mom45607 for a $10 gift certificate instead. Also, check out their photo contest! Not to mention they are currently having an outrageous sale–up to 80% off–on clearance items.