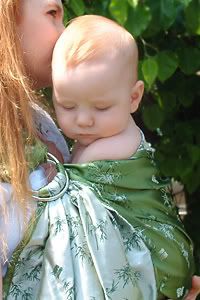 Babywearing is great for baby and even better for mama. When Baby Diva was colicky, I wore her almost all day. Holding her close to my heart kept her happy and safe and allowed me to get some work done!
A good baby sling, baby wrap, or baby carrier is also an excellent investment because it is one of the few items you will find yourself using every day during the first year–and possibly beyond. When I started babywearing, I went for the budget baby slings and wraps, but now I am addicted and love finding that special carrier that combines form and function.
Every mother and baby will have her individual preference, and there are hundreds of options, so I would like to recommend not only some of my favorite styles, but also stores that have excellent selections, fair prices, and great service.
I first found out about Attached to Baby when I stopped another mom and asked her about her gorgeous wrap. She replied that she found it online at Attached to Baby and, even better, she got it on sale at their outlet.
At the ATB outlet, you get great deals on unwashed, like new baby carriers (returns/exchanges or simply tried on for a photo shoot). If the product does not meet your standards, you can exchange or get store credit within 30 days.
Attached to Baby has great prices on your favorites, such as ERGO, Hotslings, Moby Wrap, and Maya Wrap, as well as some organic fabrics, silk brocades, real luxurious splurges, and more! If you are already gearing up for the cold weather, check out their great babywearing blankets, windbreakers, and fleece vests–keep baby close and warm all fall and winter.
Check out these great carriers: TaylorMade Water Mesh Sling (this sling won't absorb water and will adjust even when wet, $37), BabyHawk with Headrest Lavender Opulence (what a gorgeous Mei Tai!, $80), Rockin' Baby Reversible Sling (Gwen Stefani has worn Kingston in a Rockin' Baby, $102), and the Mamma's Milk Invisibly Adjustable Pouch (the smooth look of a pouch, but adjustable like a ring sling, $55).
If you want to shop for these carriers and get 10% off, click here and use Attached to Baby coupon code MAMANISTA10. Coupon expires July 18, 2007.