Update: As of August 10, we received word that ParkerG has not been shipping out orders. We checked with several affiliates and they have been unable to contact Paula at her work e-mail and phone number. We cannot recommend purchasing ParkerG Baby Sunglasses at this time but will let you know if these chic and comfortable sunglasses become available again. We hope that Paula and her family are alright and this is just a mix-up of a technical nature.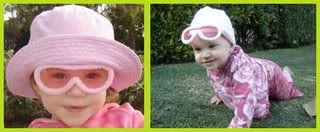 You probably already know that UV Rays can harm your eyes–and that goes double for those baby blues. The question, then, is how to keep shades on your squirmy tot?
ParkerG's hip baby sunglasses are the answer–a great choice for style, comfort, and safety.
Necessity is the mother of invention and so it is no surprise that mothers make great inventors. Former entertainment representative and engineer, Paula Murphy, was inspired to create the perfect cute and comfy shades after her daughter's sunglasses kept falling off. Paula succeeded with the snug and chic ParkerG's.
Parker G's are hot in the land of celebrities and eternal sunshine. All the hip LA babies are sporting Goo Goo Goggles ($28) and Goo Goo Shades ($28) and the hat/sunglass combo, Baby Tudes ($34) and Shady Baby ($36).
And, of course, my sassy little Diva has a pair–Goo Goo Shades in Leopard print. Baby Diva is one cool chica in her ParkerG's. Before we got the Goo Goo Shades, we were annoyed by baby sunglasses that would shift, press into her skin, or just plain refuse to stay on. With these ParkerG's, Baby Diva is ready to see and be seen on her daily outings.
ParkerG's stay put and they are so soft, Baby Diva barely even notices she has them on. But everyone else certainly does–we get compliments on her fashionable shades every time we are out!
The plush fabric frames will satisfy even the fussiest of little customers and you won't have to worry about the sun's rays damaging your baby's precious peepers. A combination of ingenious design and hot style make these luxurious baby sunglasses a must have.
If you buy directly from ParkerG, you will get 20% off your purchase, using coupon code mamanista (no restrictions on number of orders per client, good for 1 year)–that's a great deal that makes good sense!
ParkerGs are also available from Baby Universe.