Because at Mamanista, our giveaways are insane!!! *
ParkerG Baby Sunglass Winners
First, congratulations to the four Mamanista readers who won a pair of chic ParkerG baby sunglasses. Check your inboxes and junk boxes to make sure you don't miss our e-mails.
Sad you did not win? Get 20% off your purchase at ParkerG, using coupon code mamanista (no restrictions on number of orders per client, good until 6/8/08)!

About Our July/August Giveaway:
On August 8, we're giving a Miracle Blanket (one of our absolute favorite "Momma Gotta Haves") to a lucky Mamanista! Newsletter subscriber.
To enter our giveaway:
1. Sign up for Mamanista's email newsletter. **
2. Get an additional entry by leaving a comment about colic–any anecdote or tip you have to share!

Remember to put mamanista at gmail dot com on your "safe list" so we can contact you about your prize if you win and you can get our awesome newsletter.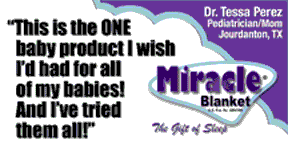 About Miracle Blanket:
Mama Luxe raves about her miracle blanket (full review), which helped a colicky Baby Diva sleep through the night. We cannot say enough good things about this product, and others agree with us–just check out these glowing customer testimonials. These blankets make a wonderful shower gift. The blanket is on sale now at Miracle Blanket. Take 10% off all blankets, or take 15% off orders of two or more!
Can't wait? Visit Miracle Blanket and use exclusive coupon code MAMA12 for an additional $5 off your order!
More Cool Contests!!!
—
* apologies to those who did not grow up in the Northeast and so were deprived of Crazy Eddie
** About Mamanista's Newsletter:

Our newsletter subscribers will receive semi-monthly updates on our hip finds, favorite product reviews, and special coupons and deals. We will never share or sell your email address, and you can unsubscribe from our newsletter at anytime. We're operating the newsletter through Zookoda.com, an email service which is compliant with the CAN-SPAM Act.
Due to shipping costs, we can only ship prizes to US and Canadian addresses.