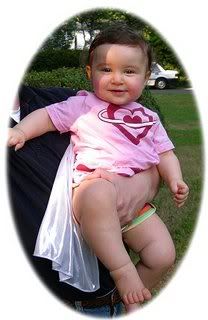 Do you have a plucky, pint-sized superhero?
When I was about four, my father was stopped by a policeman. "You can't arrest my Daddy," I bravely announced, "I'm Wonder Woman!" Without further hesitation I showed the good officer my underoos tank top.
Now I have my own little superhero: Baby Diva. She crawls faster than a speeding kitten. Her hug is more powerful than a locomotive. She's able to leap over toys in a single bound. And one smile can stop a grown adult in his tracks…
So, I was very excited when Little Capers contacted me about their fun superhero shirts for children.
These darling duds, perfect for feats of derring-do, were born on a sunny day when a young tots desire to emulate his heroes radioactively combined with his mom's horror at seeing him fly around town with a dishrag pinned to his shirt.
Dishrags are fine at home, but a Diva can't be caught wearing one in front of the paparazzi! And save the polyester get-up for Halloween–your comic book hero will be super stylish in 100% cotton Little Capers. Plus, instead of using a pre-fabricated character, your terrific tyke will be able to use his own imagination to develop a secret identity.
Baby Diva tested out the heart hero t-shirt and cape.
I love the detail, from the iconic, stylized emblems to the adorable belts–and my brave babe enjoys the shiny cape. These high quality shirts wash well, are sized generously, and are made in a fair-wage facility right in the USA.
Whether your kiddo is fast as lightening, a force of nature, or uses her power of sweetness to save the day, you'll find the right heroic outfit at Little Capers.
For the smallest hero, you can also get a t-shirt without the cape–so your pint-sized powerhouse won't get tangled in her costume while defeating the forces of evil.
Baby Diva's special superpower is her ability to mend hearts. What's your little superhero's power?
These Superhero T-Shirts and Capes are sold at Little Capers ($32-33.50 for short sleeves; $35-36.50 for long sleeves; $22-23.50 for the smallest hero).
Want to win a "Heart Hero" t-shirt for your kid, like Baby Diva's? Donate just $2 or more to the American Heart Association and help us spread the word about Congenital Heart Defects by August 9 and you'll be entered to win this and other great prizes!