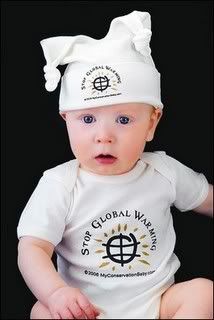 Having a baby makes parents look to the future–what kind of legacy do we want to leave to our children? Surely if baby could talk, she would ask that we keep the planet safe for her future.
Since baby cannot speak yet, let her clothing spread the message for her with My Conservation Baby: Apparel for the Eco-Friendly Baby!
With hip eco-conscious designs, high-quality construction, and organic fabric options, these hip tees, adorable onesie gift sets, and sweet pet wear and chic tote bags are sure to be a hit. In fact, items from My Conservation Baby have been seen on ABC and were included in the celebrity gift bags at the Grammy Foundation event honoring Quincy Jones last month.
Founders Ellen and Michael McNeill ensure that the environmental message goes beyond the logos and fabric choices: My Conservation Baby is a member of One Percent for the Planet, a coalition of businesses that donates one percent of sales to the natural environment. Plus, the tees and onesies are produced in fair wage facilities.
The items aren't just for baby–there are adult tees, pet tees, and I have already gotten some great comments on my Paper, Plastic, or ME? reusable tote bag and I am starting to see them pop up all over New York! This is sure to be a hot item this season as new parents look for ways to model their values for their impressionable little ones.
The company name is just too cute and I would like to see them better integrate the brand more seemlessly into the design of their shirts. Also, I am hoping as the company grows they will be able to offer a wider variety of color and fabric options for toddler t-shirts, like their great selection of onesie styles.
I am happy that when Baby Diva looks back at her baby photos, she'll see that she was already part of the vanguard of the toddler environmental movement.
With their timely environmentally friendly message, hip designs, and eco-conscious selection, I am sure you will be seeing more of My Conservation Baby, as socially responsible as it is fun an adorable!
Want to win a doggie t-shirt or a tote bag???
Just leave us a comment by Monday, September 3, 2007, 11:59 EST, telling us your favorite style of My Conservation Baby apparel and letting us know whether you'd like to be entered for a chance to win the doggie t-shirt, tote bag, or both contests.
Want your eco-friendly baby clothing, shopping tote, or pet wear now? Shop MyConservationBaby.com and use discount coupon code MAMANISTA for 15% off!