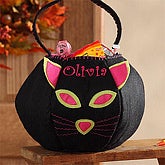 Skip the plastic this year and go with a reusable trick or treat bag.
Check out this Cute Kitty Cat Trick or Treat Bag ($16.95). The felt bag is designed to last for years, saving both money and landfill. Price includes customization with your child's name for a real treat that won't play a trick on the environment.
Also available in Frankenstein, Skeleton Bones, Miss Pumpkin, or Mr. Pumpkin styles.
Here's another pumpkin treat bag for $9.50.
For older kids, a Light-Up Vinyl Pumpkin Treat Bag with a strap helps keep them safe allows them to trick or treat hands free.
Or, if you are feeling creative, here's a foam Halloween Trick or Treat Craft Kit to make 12 bags ($8.95).