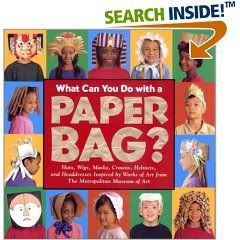 If you haven't chosen a costume for yourself or your child, you still have time to purchase a Halloween costume online and we have a ton of Halloween Costume Coupons.
But if you waited until the very last minute, or are hoping to DIY, then you should check out this book: What Can You Do with a Paper Bag?
When my kids are old enough to make crafts, I think we'll have a ball creating the hats, wigs, masks and headdresses from this book. Each project is inspired by an item in the Metropolitan Museum of Art, including a pharaoh's headdress, a Japanese geisha hairdo, an African mask and more.
You'll re-use paper bags, learn about art, and work together on a fun crafts project. This book will be great inspiration not only for dress-up, but also for class projects.
If you are hitting this post too last minute even for Amazon's super quick shipping, check out these links:

Order: What Can You Do with a Paper Bag?
($12.44 New, available used for less)