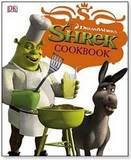 Don't know what to make for Halloween? How about whipping up a batch of stir-fry worms and insects, or perhaps you'd like to chew on swamp rat kebabs, or maybe make a mini-eyeball pizza for a quick snack?
All these dreadful delights are in the Shrek Cookbook.

Some of the recipes have scream-worthy names (Swamp Slime with Maggots), while others are more appetizing references to the Shrek characters (Waffles a la Donkey), but all are yummy. Kids enjoy the gross-out factor and moms will love that these recipes are tasty and healthy–Swamp Weed and Fly Larvae are actually guacamole dip and hummus with pita bread!
Although the connection between the recipes and the story line is sometimes a stretch, the tempting full-color photographs and entertaining sidebars are sure to entice young Shrek fans.
Some more of the recipes include Fiona's feisty chili, Puss's "purrfect" frittata, Fairy Godmother's magical morning potions, and other mouthwatering meals, snacks, and delicious desserts!
Shrek's Cookbook will do exactly what cookbooks are supposed to do: get the young chefs excited about good food. The layout and illustrations are all designed to convey the creativity of cooking and the full sensory experience–sight, sound, touch, smell, and of course taste–of preparing, serving, and enjoying food.