Susan and Janice, the very sweet and helpful twin sisters at 5 Minutes for Mom, are BOTH due with Baby Girls in October. Actually, Janice went into early labor and delivered Olivia Jenae on September 28. Check out Olivia's first photos and welcome the new little one to the world.
About the Cyber Shower
To celebrate, Pamela Kramer of Happy Panda Baby (check out our review of Happy Panda Baby and their new black onesie…I want one) is hosting a Virtual Baby Shower. Susan and Janice will be reviewing products they receive and passing out door prizes for their readers. You can learn more about the shower on the Happy Panda Baby Blog.
About the Prize Mamanista is Contributing
A few weeks ago, I received an amusing maternity t-shirt from PREgo RULES. PREgo RULES is all about the postpartum resolutions we make to remind ourselves we are more than human incubators…Postpartum Resolutions Expected! We got received a clever workoutaholic shirt ($45): "I'll be spinning my wheels… in no time."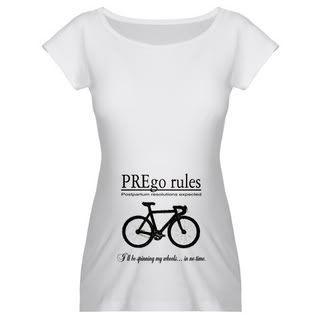 Check out their other categories, too, like Girls' Night Out.
Since I'm not pregnant right now, and Mama-To-Be is not much of a t-shirt gal, we thought we could share this tee through the Cyber Baby Shower–giving the shower attendees a chance to win one and letting the Mamanista and 5 Minutes for Mom readership know about PREgo RULES.
So, head on over to 5 Minutes for Mom to see all of the gifts and the cool prizes you could win, including the PREgo Rules T-Shirt.