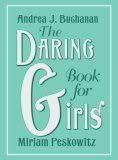 When I was a young girl, I devoured books about spying, eager to discover the secrets of invisible ink and other tricks for espionage. At some point I moved on to learning the craft of friendship bracelets, and then to ghost stories, and so on.
I suppose today's girls look up this assortment of skills, lore, and ephemera on the Internet. However, the problem with the Internet is that you usually find what you were looking for, and not much else.
Browse a good book, instead, and you discover so much more. You might even find an unexpected piece of the puzzle as you assemble your own identity.
That is the charm of The Daring Book for Girls and its collection of biographies of fascinating females, rules for entertaining games, and tips for all sorts of successful adventures.
At a time when there is so much pressure for young people, especially girls, to concentrate on their appearance and to conform (and when wasn't there?), this book recognizes that sometimes the bravest thing you can do is dare to be yourself.
Everything about the book, from the cover that suggests exciting secrets, to the confidential tone, speaks of a world where play is powered by the imagination, not electricity, and it is the journey, not just the destination, that counts.
Whether a girl needs inspiration and role models (Abigail Adams), advice for handling tight spots (How to Negotiate a Salary), or just some suggestions about how to while away a summer's day (Clubhouses and Forts), she'll find what she's looking for and probably a great bit more in The Daring Book for Girls.
Keep reading for an interview with the authors, Andrea J. Buchanana and Miriam Peskowitz, and a chance to win one of two copies…
Interview with Andrea J. Buchanana and Miriam Peskowitz, authors of The Daring Book for Girls
Your book is called "The Daring Book for Girls." Tell us more about the daring girl. What is she like?
A daring girl is anyone with a spirit of adventure, whether intellectual or physical. She wakes up each morning, ready to enjoy the world and its challenges. Daring girls figure out their dreams and follow them. They know life is never perfect on the first try, and that activities and skills take patience to build, and that's a good thing. Daring girls might be outgoing or shy, or anywhere in between, but whatever her personality, a daring girl gets herself in the game, whatever her game might be.
Oh, and boys can be daring too.
Why might today's girl need some advice about how to be daring?
Girls today are given a lot of mixed messages — they are told that the world is dangerous and scary, and that they need to be perfect to succeed, even as they are told that they can and should do it all and have it all. The bar for what it means to be a girl is constantly being raised.
Girls are rarely described with words like daring, curious and brave. And yet, in the face of all the pressure on our girls, they may need some support in following instincts that aren't reflected back to them in popular culture. We are talking about being daring in the context of girlhood, which means giving girls some positive ideas about what being a girl can mean, giving her some alternatives, and in general, helping her to hold on the being a girl, when there is so much pressure to dress and act like little women at very young ages. Sometimes just being earnest and kind, being interested in knowing things, and being curious and excited is daring enough in a world that teaches our girls to be jaded and hyper-sophisticated when they are nine.
What is your favorite chapter of the book and why?
Andi: I loved researching real-life women spies from the Civil War through World War II — I'd had no idea Julia Child was a spy before she was a chef!
Miriam: My favorite changes every day: I like the projects, everything from making your own light (from some batteries, copper wire, and a bulb) to making a flower press (and in the process learning about real tools) to making two kinds of scooters, a flat one like the kids use in gym class and an old-fashioned upright wooden scooter.
What other authors, books, or resources do you recommend for daring girls?
We have a really wonderful chapter called "Books That Will Change Your Life." We recommend 20 main books, and then list nearly a hundred others (from science fiction to mystery to a recommendation on reading the dictionary). That's a great place to start.
We also urge girls to talk with their moms and dads, aunts and uncles, grandparents, family friends…. there is so much oral tradition and knowledge and stories that we never really talk about, and which girls (and boys) want to know. When my grandmother read the book, she started remembering her girlhood in the early 20th century, and told me things I hadn't yet heard.
Who are some current, well-known daring girl role models, including girls and women who might inspire daring girls?
In our chapter on women explorers, we're thrilled to mention Samantha Larson, who just this year (at age 18) became the youngest American to climb Mt. Everest. Our chapter on modern-day princesses includes the story of Sarah Culberson, who discovered her royal status at age 22 and now works to raise money for her family's tribe in Sierra Leone.
Another chapter lists the many women who have been elected as Presidents or Prime Ministers of their countries, around the world, to run their countries, like Mary McAleese and Mary Robinson, both of whom have been the president of Ireland (Mary McAleese is still in office), and Chandra Kumaratunga, President of Sri Lanka for over ten years.
What is the most daring thing you did as a girl?
Andi: The most physically daring thing was probably jumping off the roof of our house onto the trampoline… but probably the most daring thing I did when I was a kid was when I was nine and I confessed to my fifth-grade teacher that I had no idea how to do math. As a perfectionist and a kid who'd always been identified as "the smart one," this was pretty daring indeed. I had skipped a grade when I was very young, and because I was such a good reader, everyone just assumed I knew math, too. I didn't want to disappoint anyone, so I never said anything — until the fifth grade, when we hit fractions and long division and none of my made-up rules about math worked anymore. Admitting to my teacher that I was totally lost (and risking her disappointment) was really difficult. But she was wonderful — she took me all the way back to the basics, and with her help I finally understood what I'd been missing all those years. That teacher was a pretty daring girl, too.
Win a Copy of the Daring Book for Girls
This book would make a fabulous gift for any young girl on your list. And you can win one of two copies. US shipping only for this contest.
Simply leave a comment by December 10, 11:59 EST, telling us the most daring thing you did as a young person and we will select two winners at random.
Make sure to either leave an e-mail address or URL where we can reach you OR leave a comment using a nickname and let us know that you did so we can contact you if you win.
Buy a Copy of the Daring Book for Girls
If you want your copy right away, Click HERE to buy The Daring Book for Girls ($14.97).