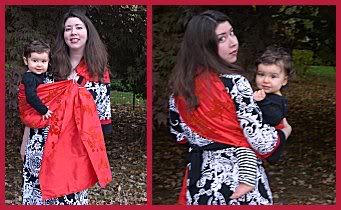 Obviously baby is adorable, but mama still deserves to look fabulous–and she will in Bronwen Handcrafted's Baby Carriers.
Bronwen brings a fresh design perspective to her beautiful ring slings, pouch slings, and podaegis.
The outstanding choice of luxurious fabrics, some by chic designers like Vera Wang, Missoni, and Marimekko, makes the slings a unique treasure–like that scarf or pair of shoes that always makes you feel attractive, no matter what. I'm especially drawn to the Marimekko Samovaari's bold, graphic, oversized stylized pattern in crisp black and white.
With these sublime fabrics, Bronwen crafts a carrier that you'll want to keep wearing long after baby is walking.
She fans out the shoulder fabric, leaving the top pleat unstitched, to allow for the most comfortable weight distribution. I have worn my heavy baby in a lot of slings, and Bronwen's design creates a very comfortable fit.
Bronwen sent me a red silk flocking ring sling. This bright, classic red, like the perfect shade of lipstick, is balanced by the more subdued velvet floral pattern. The striking color and versatility of silk make the sling perfect for a celebratory Holiday party or a sultry summer evening, dining alfresco.
If don't have a baby of wearing age, you don't have to borrow your niece to enjoy Bronwen's style. She also has quilts, banners, jewelry, and a growing section of baby clothing.
When you put on one of Bronwen Handcrafted's Baby Carriers, you just feel right. Then you look in the mirror and realize you look simply stunning.
Buy a Sling
Bronwen is offering Mamanista readers 15% refunded if you write "mamanista" in the comments section at checkout. Click here to select one of her exquisite baby carriers.
Win a Sling
Bronwen would like one lucky Mamanista to win this red silk flocking pouch sling ($64 value), in the same fabric as my gorgeous new ring sling. This one is open to everyone.
To enter, simply add a comment telling us your favorite style (other than the red silk flocking and Marimekko Samovaari mentioned here) by November 26, 11:59 PM EST.
Remember to leave a URL or e-mail in the "Your Web Page" field or leave a comment with a nickname and then let us know. It is not required, but we encourage you to share this contest and Bronwen's beautiful creations with a friend.