Chic options for girls are plentiful but what if you have a boy and want something more unique than the usual puppies, trucks, and footballs?
Tin Tank Clothing has original and hip graphic children's tees for boys, tomboys, and any active child who likes to jump, explore, and climb.
When I was little, I was more at home climbing a tree than hosting an imaginary tea party, more comfortable in jeans than a frilly frock. Baby Diva will be her own girl, but I think this "Play" Shirt fits her attitude perfectly.
In fact, every time I put the shirt on her, she seems determined to enjoy every activity on the shirt at once.
I also adore the strength and energy of the "Superpower" T-Shirt,the playful humor of the "Raised in a Family that May Contain Nuts" T-Shirt, and the sweet graphic simplicity of the "You Are My Sunshine" T-Shirt.
With categories like Monkeys and Robots, the lively designs with appeal to the hippest kid. The thick, quality 100% cotton shirts will hold up to the serious business of child's play. Because the mom and pop duo hand screen print, each shirt is a true original.
At the core of Tin Tank Clothing's funky, modern designs is a celebration old-fashioned imagination and play…and isn't that what being a kid is all about?
Get Tin Tank Children's Clothing: Check out all the hip and playful designs at Tin Tank Clothing and get 15% off your order at Tin Tank Clothing with coupon code: MN1 (expires December 1)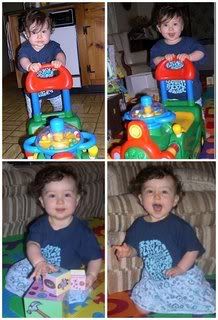 Tin Tank Clothing Makes Me Want to Slide, Build, and Laugh!