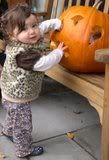 I searched high and low for a winter jacket for Baby Diva. I needed something warm, but not too bulky. Few baby boutiques seem to carry outerwear and the few that did had coats and jackets for over $100–for something she'd probably wear only one season. After all, she's still a little young to be hitting the slopes at Aspen or even to run outside at the first sign of flakes to make snow angels.
I found a few cute jackets at BabyGap and Old Navy , but I finally ended up with Big Chill Baby Girl Reversible Leopard Jacket from Macy's (one day Sale now through Saturday for only $25, down from $50).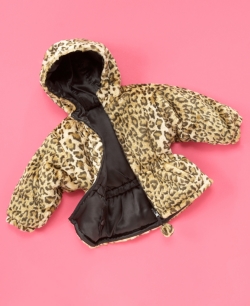 While I was there, I picked up the
Greendog Little Girl Faux Fur Vest
(on sale right now for $11.99 and perfect for a crisp day).
If leopard print isn't your look, though, you may want to check out one of these other stylish options: KC Collections Baby Girl Satin Bomber Jacket or Big Chill Baby Girl Embroidered Faux Shearling Jacket with Mittens.
And Macy's has tons of other amazing deals on clothes, gifts, and more for men, women, and children during their sale. So shop The Biggest One Day Sale at Macy's! Valid through November 17. And if you miss out, there is still the Thanksgiving Sale at Macy's! (November 18-25).