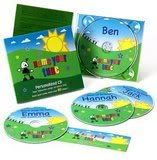 Name Your Tune is a special, sweet gift for any child in your life. My baby had the most comical look of surprise and delight the first time the CD player sang out her name. Children need to know that they are cherished–and hearing her name as part of her favorite songs will delight your child.
Each name is recorded individually by the artists themselves and more than 2800 names are available. The musicians add a special twist on the traditional children's songs, jazzing things up a bit on one song or adding a little fun with some doo-wop on another.
Click here to read our full review of Name Your Tune…
Buy Name Your Tune!
Visit Name Your Tune CDs and use coupon code MAMANISTA for $5 off your purchase.
Plus, a portion of sales goes to Hear Here, a non-profit charitable organization that purchases hearing aids for children.
Win Name Your Tune!
We're kicking off our 12 Days of Giveaways with custom prizes first, so you have time to get these personalized gifts before the holidays.
Name Your Tune has been kind enough to give away one copy each to two lucky Mamanista! readers as part of our 12 Days of Giveaways. To enter for a chance to win one, you must complete both of these steps:
Click here to find out how to share the fun. You only have to share the 12 Days of Giveaways once to be able to enter any or all of the twelve contests. You do not need to be a blogger to play!
Check out Name Your Tune's fun, unique and personalized songs for children and leave a comment on this post telling us which selection is your favorite. Remember to leave a URL or e-mail in the "Your Web Page" field or leave a comment with a nickname and then let us know.
Complete both steps by Wednesday, November 28, at 11:59 PM EST and you'll be entered for your chance to win.
Check out our Toys to Trust Guide to Gifts for even more safe and healthy choices. Don't miss out on a single fabulous giveaway, hip review or amazing deal: subscribe to Mamanista! by e-mail.