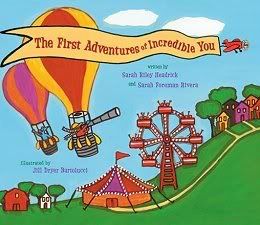 The hero of the The First Adventures of Incredible You is adventurous, unique, and confident–just like your child. And you'll have the chance to win one at the end of this review.
This personalized storybook by Custom Made for Kids describes our Baby growing into exactly the sort of child we hope and expect she will become.
Seamlessly integrating friends and family, local fun spots, and other favorites into lively rhymes, the tale describes the everyday adventures of a happy and active child. The questionnaire provides context, so the verse feels natural.
We loved that there was plenty of room in the story for all of the grandparents, plus several others. Each episode fit at least one relative or friend perfectly.
Vibrant, groovy, and jazzy illustrations compliment the story and evoke a magical world. My favorite page has a funky chicken rocking out beneath a disco ball. We personalized this page with Baby Diva's godfather, a musician, who just jammed with her on the keyboards last weekend.
Books are a perfect gift for young children because they engage the mind and always come in the right size–and this one is tailor-made. Meant as a keepsake, The First Adventures of Incredible You is a special gift for an extraordinary child–sure to be cherished for years to come.
Buy The First Adventures of Incredible You!
Visit Custom Made for Kids and get 15% off with coupon code "mama15" (expires 12/15/07). Remember that orders take 2-3 weeks unless you choose priority shipping at extra cost for delivery in approximately 10 days.
Win The First Adventures of Incredible You!
Custom Made for Kids wants one lucky reader to win a copy of The First Adventures of Incredible You (includes regular ground shipping) as part of our 12 Days of Giveaways.
Click here to find out how to share the fun. You only have to share the 12 Days of Giveaways once to enter any or all of the twelve contests.
Leave a comment on this post telling us what you like best about this awesome book. Remember to leave a URL or e-mail in the "Your Web Page" field or leave a comment with a nickname and then let us know.
Complete both steps by Tuesday, November 27, at 11:59 PM EST and you'll be entered for your chance to win.
Check out our Toys to Trust Guide to Gifts for even more safe and healthy choices. Don't miss out on a single fabulous giveaway, hip review or amazing deal: subscribe to Mamanista! by e-mail.