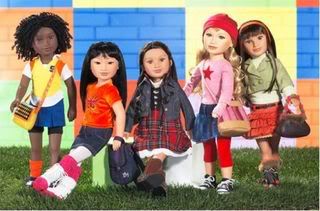 Children like dolls that let them role play their hopes and dreams. So if your child enjoys playing with dolls, why not give them one that encourages positive values?
Karito Kids
have spirit, kindness, and generosity…and a hip flair youngsters will adore.
A true international bunch, the Karito Kids hail from around the world. Their sweet, molded faces show the unique beauty of their individual heritage and the chic outfits reflect modern trends in their countries. The clothing is stylish, but appropriate for a pre-teen girl, and the 21″ dolls are proportioned like an 11 year-old girl–a refreshing change of pace.
Even more importantly, the girls work hard at developing their talents and interests: working with animals, learning about technology, designing high fashion, playing sports, hosting a television talk show, and more.
My favorite part about Karito Kids is the online giving program, which allows the child to direct a portion of the doll's retail price to a charity of choice.
Children six and above are the main audience for Karito Kids, but the dolls are tested to meet standards for ages three and above. The dolls are made from non-phthalate vinyl and, although the dolls are made in China, are independently tested to ensure they meet the highest US standards. You can read more safety information here (.pdf file).
The girls have multi-dimensional personalities and struggle with many of the same issues of peer pressure, self-image, and family relationships that preteens experience throughout the world. Pita, for example, is the daughter of a conservative and affluent Mexican family, who breaks the traditional expectations of her parents to solve a mystery.
Each of the Karito Kids finds herself on an adventure where she'll need to draw upon her intelligence, courage, and self-confidence–valuable traits for real life kids as well.
I only wish that these high-quality and fun dolls were priced to be accessible to more children.
The Karito Kids are a great alternative to the usual dolls for school aged children, linking reading with play, encouraging charitable giving, and promoting awareness of other cultures.
Buy Karito Kids
Karito Kids ($99.99) are available directly from KidsGive and you may also purchase Karito Kids from HearthSong.
Win a Karito Kids Doll
KidsGive is kind enough to give a lucky Mamanista read a choice of one of their Karito Kids Dolls as part of the 12 Days of Giveaways. US Shipping Only for this contest. To enter for a chance to win, you must complete both of these steps:
Share: Click here to find out how to share the fun. You only have to share the 12 Days of Giveaways once to be able to enter any or all of the twelve contests–you do not need to be a blogger to play! Just remember to visit again to comment on the giveaway posts individually.
Leave a Comment: Visit Karito Kids and check out the Shopping and Charity sections. Leave a comment on this post telling us which doll is your favorite, besides Pita, or which charitable area you would choose to support. Remember to leave a valid e-mail or URL where we can reach you (OR use a nickname and then let us know). Complete both steps by Friday, December 7, at 11:59 PM EST and you'll be entered for your chance to win this prize!
Don't miss out on a single fabulous giveaway, hip review or amazing deal: subscribe to Mamanista! by e-mail.