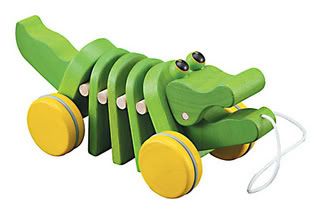 Most stores have categories of toys that include Dolls, Games and Puzzles, and Musical Instruments.
Planet Happy Toys has those, too, but how about Organic, Fairly Traded, and Recycled? Or maybe you are especially concerned that the vinyl is Phthalate-Free?
Baby Diva got her new Dancing Alligator Pull Toy by Plan Toys, and it is her new favorite. I'm glad to know, thanks to Planet Happy's Toy Badges of Honor, that it is made from natural woods, the packaging is recyclable, and it meets or exceeds both US and European Union toy standards.
Assured of the toy's safety, the ultimate standard is whether or not it is fun for your child. And Baby Diva gives this one her toddler stamp of approval. Whenever we go into the kitchen, Baby has to first go get her new reptilian friend. When you pull the string, the alligator really does "dance," crawling along like an inch worm. The over-sized wheels keep him (mostly) steadily on his path, even with an active toddler doing the pulling. And he makes the all-important cool clacking sound, perfect for interrupting business or social phone calls
Shop with confidence at Planet Happy Toys and get 10% off with coupon code: behappy
—
Check out our Toys to Trust Guide for more safer toy picks and responsible retailers.