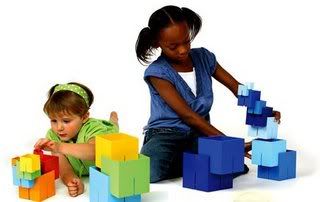 This toy doesn't even have a computer chip or batteries and I think it is smarter than I am. With Dado Cubes, you can "explore the architectural principles of proportion, balance, structure, composition, and color." And how many toys do you know of that use the word cantilever on the packaging?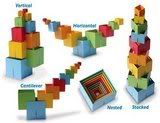 The unique design allows you to stack cubes on any side or corner of a foundation cube. There is no limit to the structures you can build with Dado Cubes. Of course, they will all look a bit like post-modern apartment complexes, but that's what an imagination is for.
For even more complexity, go for the addictive Dado Squares. The notched squares allow greater design flexibility so the possibilities are truly endless. Trying to come up with the perfect balance could keep a child of any age occupied for hours. A perfect gift for a three year old or an architecture student (or a former art history teacher turned work at home mom…ahem).
Dado Cubes and Squares are manufactured in the USA by Fat Brain Toys, which sells its own designs as well as other popular toys that feed the brain.
Open ended toys like these Dado Cubes and Squares encourage spatial awareness, pattern recognition, and problem solving skills. While the simple design means it is appropriate for ages 3 and up, older kids will still find plenty to do–Dad's already had to remind me several times that these toys are supposed to be for the kid.
—
Get Dado Cubes ($24.95), Dado Squares ($19.95), and other toys to build mental agility at Fat Brain Toys.