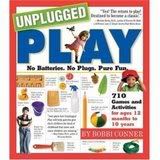 Have we forgotten how to play?
Children learn through playing–they learn about the world around them, about interacting with others, and even about themselves. In light of recent studies that television may be harmful to children under two and that older children still need to temper their tech-time with lots of face to face time, it seems time for old-fashioned play to make a comeback.
But what do you DO with a child all day? New parents used to get ideas from friends and relatives. Now, so many of us live far away from our families, though, and neighborhoods just aren't what they used to be in many parts of the country. Enter Unplugged Play: No Batteries. No Plugs. Pure Fun.
This heaven-sent book gives you plenty of ideas to keep minds and bodies engaged, from ages one to ten. All the activities are interactive, open-ended, and imaginative. Author Bobbi Conner is realistic that sooner or later children will encounter and become fascinated with technology. She also knows that a zero tolerance policy is neither realistic nor even desirable. So, she provides ways to minimize, rather than eliminate, the use of electronic games.
Because I have a 16 month old, I focused on the toddler section. The Association of American Pediatrics recommends no television under age two. So how do you fill the day? And don't you at some point have to do the dishes, answer the phone, or even possibly read a book that has more words than pictures?
One of the best parts of this book is that for each age range, Conner suggests activities to occupy children's attention with parents, alone, or with other kids. For toddlers there are color matching games (like Library Pockets), active games (like Hallway Bag-Ball), and party games (like Sidewalk Painting–no paint needed). Literally hundreds of ideas for stumped parents.
And you can do all of this not only without electricity, but also with just a handful of inexpensive props, like laundry baskets, funnels, and muffin tins…and a little imagination.
Whether you are in desperate need of suggestions or an enthusiastic lover of play who would just like to mix it up a little more, you'll find hours of fun ideas in Unplugged Play.
—
WANT IT: Buy Unplugged Play: No Batteries. No Plugs. Pure Fun. ($11.53)
WIN IT: Leave a comment by 5 pm EST, December 20, with a simple idea for Unplugged Play for children of any age group. You'll be entered for your chance to win one of two copies. U.S. Only for this contest. Make sure to leave a URL or e-mail where we can reach you. Or, use a nickname and THEN shoot us an e-mail to tell us your nickname (make sure to leave the comment first). More chances to win coming up, so stay tuned!