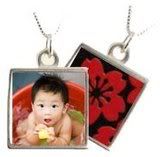 For parents and grandparents who always want to keep a loved one close to their heart, custom photo jewelry is a great idea. And for stylish relatives, Kathy Lo Rocks makes the perfect gift.
Not your ordinary photo gift, Kathy Lo takes your uploaded photo and a Japanese Chiyogami pattern of your choice and combines your selections into a fabulous sterling silver necklace, bracelet, ring, or other personalized accessory.
I chose the striking Maddie pattern pictured here, uploaded one of my favorite pictures of baby, and then my stunning, beautifully crafted necklace arrived in the mail a little over a week later. I love that you can flip your jewelry between your child's sweet smile or a fashionable design.
These sweetly chic accessories make a thoughtful Valentine's Day Gift. If you are selecting a gift and are not sure which adorable photo to use, Kathy Lo Rocks offers gift certificates, too.
Perfect for moms, this jewelry is waterproof. So, you don't have to worry when your toddler suddenly grabs your necklace, still attached to your neck, and dunks it in his sippy cup. And during moments like that, you'll have a much needed photographic reminder of just how sweet your perfect little angel can be.
—
WANT IT: Purchase Custom Photo Accessories at Kathy Lo Rocks. Use coupon code "mamaloves" for 10% off the small photo necklaces.