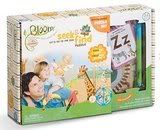 It is cold and raining outside and your three year old is bouncing off the wall. You've done crafts, you've built couch forts, and right now you just want your kid to sit quietly for a few minutes, without the television on.
Cranium has launched a new line of games (or, as like to call them, parent sanity savers), called Cranium Bloom, for pre-schoolers. The concept behind each of these games is to encourage children to draw connections between their everyday experiences and new knowledge. In teaching, we used to call this the velcro approach: new ideas "stick" better when they can adhere to something the student understands.
With Cranium Bloom, you can visit the zoo even when its pouring. We really enjoyed the Let's Go to the Zoo Seek & Find Puzzle for its holistic approach to pre-school learning. First, children will enjoy assembling the puzzle (great for spatial skills). Then, alone or taking turns, kids reading their cards their use the erasable pen to circle items in the puzzle. Because there is a beginner and an advanced deck of cards, big and little sibblings can enjoy the game together. Three year olds will be able to find bears and lions, while older kids will locate animals whose names begin with "Z."
With Cranium Bloom, you can spend a day at the zoo, even when its rainy outside.
I was less impressed by the Let's Play Count & Cook Game. In this game, players travel the board, picking up ingredients for their recipes. The winner lands on the final necessary ingredient and gets to open up the surprise activity. Winning the game relies almost entirely on luck and my young testers did not find the "prize" motivating enough.
With some changes, the game could teach children more about kitchen safety and how to help prepare meals. And, like Let's Go to the Zoo, this game could provide children with an opportunity to practice new skills, like counting or learning letters. I would have also have preferred if a greater number of the recipes were healthier picks for pre-schoolers. It is a great idea to have a game that gets children interested in preparing and enjoying their food, and Cranium also has kitchen activity games, like Let's Play Measure & Cook Activity Set.
Each game also comes with suggestions for extension activities for parents. So, the fun doesn't stop when the game ends.
—
WANT IT: Visit the Cranium Bloom Website to purchase Let's Go to the Zoo ($9.99), Let's Play Count & Cook Game($12.99), and more games for pre-schoolers, or click HERE to visit Target, exclusive retailer of Cranium Bloom.