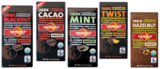 This Valentine's Day, say "I love you…and all of humanity…and our planet, too."
Alter-Eco makes delicious chocolates that are healthy for you, the environment, and the farm workers who make these treats.
These scrumptious chocolate bars are 100% natural, and free of gluten, soy, GMO's, emulsifiers, artificial flavors or sweeteners. We especially enjoyed the black-out bar (85% cocoa) and the Cacao (with crunchy cacao bits). A chocolate loving valentine is sure to enjoy these smooth, rich, and full-flavored chocolates.
Eating dark chocolate has a whole host of health benefits, and, when consumed during pregnancy may even make your baby happier and livelier. True, you could probably just eat more apples, but then you'd miss out on the chocolaty goodness. Do you really need an excuse to enjoy some yummy chocolate?
And Alter Eco chocolates aren't just good for you–they are good for the whole world. The beans used in these chocolates were produced using sustainable methods. And, because the bars are 100% Fair Trade certified, the farmers get a fair price and can invest in community developments.
If your last Valentine's present bombed (maybe you missed the message about no conflict diamonds), you can't go wrong with a classic with socially-conscious twist.
—
WANT IT: Alter Eco Chocolates are available online and at select gourmet retailers for $4.29 a bar and $46.68 for a 12-pack.