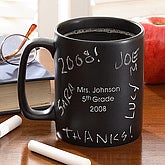 When I was a teacher, I never expected a gift at the end of the year. And I always tell my friends that the nicest present you can give a teacher is a handwritten thank you note (photocopy it and send it to the principal and the school board for an extra treat).
A number of parents still want to give the teacher a tangible thank you gift and I thought this was a cute idea. Teachers spend a lot of the day moving around and talking and, frankly, it is a lot of work to match the energy level of your students.
Teacher will enjoy a little refreshment from this #1 Teacher Chalk Talk Message Mug ($14.95). Personalize it with three permanently etched lines and then add fun messages with chalk.

Whether the beverage of choice is coffee, tea, or water, teach will appreciate this reminder of at least one student's gratitude.