Update: As of August 10, we received word that ParkerG has not been shipping out orders. We checked with several affiliates and they have been unable to contact Paula at her work e-mail and phone number. We cannot recommend purchasing ParkerG Baby Sunglasses at this time but will let you know if these chic and comfortable sunglasses become available again. We hope that Paula and her family are alright and this is just a mix-up of a technical nature.

About Our June Giveaway:
In June, we're giving away a pair of chic ParkerG baby sunglasses to four lucky Mamanista! Newsletter subscribers. To enter our June giveaway, just sign up for Mamanista's email newsletter.**
Remember to put mamanista at gmail dot com on your "safe list" so we can contact you about your prize if you win. Four lucky winners will be chosen at random from our newsletter subscribers on July 10 to win their choice of ParkerGs. It's that easy!
Already subscribed and want another opportunity to win? Here's two more ways newsletter subscribers can win (remember to use the same e-mail address you used for subscribing or send us an e-mail so we know it is you):
1. Visit ParkerG and leave a comment on this post about which style is your favorite and why you like ParkerG's.
2. Link to www.Mamanista.com from your website and drop us an e-mail letting us know.
Subscribe and you are automatically entered. Subscribe, comment, and link and you'll get three entries!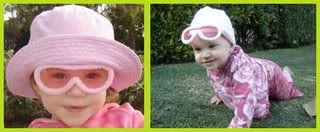 About ParkerGs:

How do you keep shades on your squirmy tot? ParkerG's are the answer–a great choice for style, comfort, and safety. Parker G's are hot in the land of celebrities and eternal sunshine. ParkerG's stay put and the plush fabric frames will satisfy even the fussiest of little customers. A combination of ingenious design and hot style make these luxurious baby sunglasses a must have. Check out our
full review of ParkerG's
and see a pic of Baby Diva sporting her pair.
If you want your ParkerG shades now, get 20% off your purchase at ParkerG, using coupon code mamanista (no restrictions on number of orders per client, good for 1 year)!

** About Mamanista's Newsletter:

Our newsletter subscribers will receive semi-monthly updates on our hip finds, favorite product reviews, and special coupons and deals. We will never share or sell your email address, and you can unsubscribe from our newsletter at anytime. We're operating the newsletter through Zookoda.com, an email service which is compliant with the CAN-SPAM Act.
Due to shipping costs, we can only ship prizes to US and Canadian addresses.