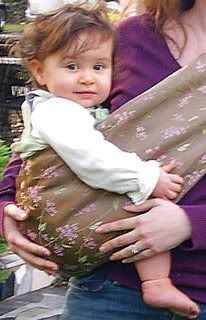 I've been eager to try out a Mamma's Milk Pouch Sling ever since I started babywearing.
Check out Baby Diva in her luscious new ride–a Mamma's Milk Silk Pouch. The whole family likes the feel of the luxurious washable silk fabric and the design is subtle and sweet. As soon as I pulled the sling out of the bag, I told Captain Dad that he needs to take us out to dinner so I can wear my elegant new pouch sling.
Babywearing keeps baby close and gives mom freedom of movement. Babywearing has been shown to reduce crying by as much as 50% and make baby feel more secure. As a mom, I also feel more comfortable, knowing that my baby is close and safe (and possibly even napping) as I go about my day.
My friends raved about the benefits of pouches in particular–they are sleek and always ready to go–but I was concerned about getting a perfect close fit.
One of the features that makes Mamma's Milk Slings so great is that they are adjustable pouch slings. You can even adjust the two "rails" separately using the Aplix strips, to achieve a custom fit that is just right for you and your baby. Once you have the sling comfortable, you can leave it in place so you do not have to re-adjust each time you wear the carrier.
The safe Aplix strips have been tested to hold at least 180 lbs., so Captain Dad could even theoretically carry me, while pregnant, in a Mamma's Milk sling. And, there is also a sewn fabric strip that would keep the sling together as a back-up.
Carriers come in cotton, stretch cotton, washable silk, and solarveil and in a variety of styles. Whether you prefer mod, hip, chic, sweet, simple, or edgy, you are sure to find a Mamma's Milk design that suits your tastes. And with prices starting as low as $45 and running just as high as $85 for the more luxe fabrics, these slings will fit your budget, especially with our exclusive coupon code for readers!
Mamma's Milk also maintains a fun website. Perfect for Halloween, Mamma's Milk provides instructions for adorable costumes incorporating slings. They have a cartoon avatar maker where, if you run Java on your computer, you can customize images of cartoon mothers slinging their babies. And I always enjoy looking at their gallery of celebrity babywearers.
Click here to save 15% off any Mamma's Milk purchase, using coupon code: MAMANISTA.
In order to use a coupon code, customers need to register, login, and THEN use the coupon.