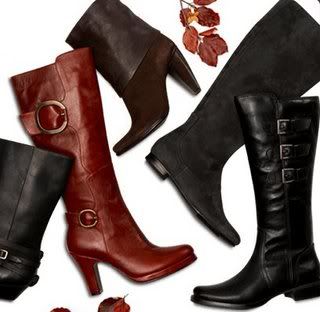 Rachel Zoe may have insulted the devastatingly powerful and fabulous Ms. Wintour, but her picks for Five Must Have Shoes can all be done in Mommy-Friendly Style: a timeless patent, the simple riding boot (just picked up a pair myself), a stunning red shoe (contrary to Southern Belles, these are now acceptable for respectable adult women), the fabulous flat (a mommy must-have), and a wild animal print (if you feel leopard has been done, go for something different, like Zebra).

Notice that nowhere here did she mention a pair of five-inch spike heels. Most of her specific picks are quite high, but you can still get the styles in low heels and flats.
Now, I love me my heels, but if you are pregnant or carrying around a baby, you may want to temporarily shelve those platforms. Instead, pull your glamor from color and fabric choices.
Rachel Zoe's picks, Heads Up. tons of hot boots, lots of fabulous flats, and The Sweet Deal Event (Enjoy 20% off select shoe styles), can all be found at Piperlime. Shop now.