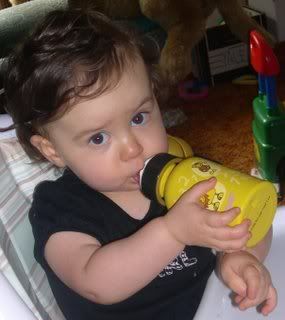 If you are looking for a safe, eco-friendly, reusable water bottle for yourself and your kids, you should check out SIGG.
SIGG Kids are designed to be safe and virtually indestructible, just like their adult sports bottles. Because they are reusable, they do not add to the landfill. The special coating ensures that there is no chemical leaching (a concern with plastic bottles) and your drink tastes the way it should. Eco-chic SIGG Kids bottles are a favorite of celebrity moms, like Madonna and Cindy Crawford.
Baby Diva put her SIGG Kids to the test as a new, safe sippy cup. We took the bottle on the road and out to a restaurant. Despite Baby Diva's new penchant for throwing and flinging, the SIGG looks as good as new.
As soon as I handed her the SIGG, she knew exactly what to do. She had no trouble using the SIGG to enjoy a cool, refreshing drink. If you have a younger baby, you may want to check out the Kids Grip handles. Older kids will appreciate the carry straps and pouches.
Baby Diva definitely enjoys her beverage from the SIGG and points repeatedly to the bottle if it is out of her reach. I also performed a taste-test and found the water just as clean tasting as always.
I appreciate that the bottle is leak proof. Once the top has snapped in place, no water is coming out. SIGG also makes interchangeable caps and tops for the adult bottles.
The only issue we experienced with the bottle is that our bottle didn't really lock in the open position and also the water flows fairly freely in the open position. But this is only a minor problem with our very active child–and no where near as messy as when she cracks open plastic sippy cups!
We are absolutely fans of the SIGG. The SIGG means less mess, no health concerns, and a reduction in landfill. For our family and for the environment, I definitely choose the SIGG. I would like one of their fabulous designs for myself and I wish they made other safe and indestructible dinnerware for babies and toddlers!

Win a SIGG!
We are choosing two winners, who will be able to select one of these four styles of SIGG: SIGG Pattern Water Bottle, SIGG Harmony Water Bottle, SIGG Arctic Babies, or SIGG Little Fireman. To enter, complete both of these steps:
1. Link or Share: Contests are more fun when you share!
If you are a blogger, link to this post and to SIGG.
If you are not a blogger, fill out this form to share this contest with two friends. Make sure you mention in the message that the contest is sponsored by MySIGG.com. If you are having trouble with the form, just e-mail two friends the links to this post and to MySIGG.com and Cc mamanista@gmail.com. We will not share your e-mail or your friends' e-mails with anyone.
2. Comment: Let us know that you linked or shared by leaving a comment below. We'd love to hear why you want to win a SIGG! Make sure to include your link or a first name or nickname so we can verify your entry.
Make sure you comment AND link or share.
Contest ends: November 6, 2007 at 11:59 PM EST
Contest is open to: US (including military addresses) and Canada
Buy Your SIGG and SAVE!
Update: If you just can't wait to get your hands on a SIGG, visit MySIGG.com and use discount coupon code SIGGVIP3007mLnX82PzJK to get a 30% discount on SIGG bottles!
Wonderful Week of Winning

Mama Luxe is turning 30 so we're celebrating by giving presents. Check out the rest of our current contests.