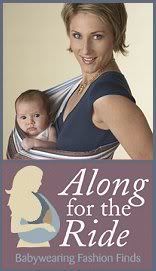 Mamanista readers are always able to enjoy $5 off orders of $40+ at At Along For the Ride, one of our favorite stores for baby slings, pouch slings, mei tais, and other baby carriers, including brands like Beco, BabyHawk, and Zolowear.
Now, for a limited time, you can save even more: Click here to Save 10% on $100.00+ Coupon Code: WINTER. (cannot be combined with other coupons, expires 11/30/07)
They also offer free shipping on all US orders over $75 (and that can be combined with either coupon).
Along for the Ride is one of our favorites because of the great service and helpful articles, like the timely "Tips for Winter and Cold Weather Babywearing" (or, if you are lucky enough to travel this winter to warmer climes, you'll like the "Tips for Summer and Warm Weather Babywearing"). Plus Kristen has just added some awesome new products, like the Ball Baby Overall (BBO) Mei Tai Carrier which I really want to try out, and hotter than hot diaper bags by Fleurville, Reese Li, and Skip*Hop.
Check out our full review of Along for the Ride for more of our top picks.