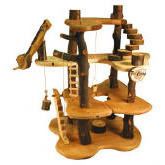 As we search for products for their families that are wholesome and natural, we also realize that we can reduce waste and simplify our lives. Just a few, heirloom quality toys can replace the clutter.
Natural Pod offers parents toys and other products for daily living that stimulate the mind, while keeping your family safe. The eco-friendly selections are organic, durable, and simply beautiful, promoting both imaginative play and an appreciation for quality and beauty. The kids will have to watch out or we may snatch these toys to use as decorations.
We're very excited that Natural Pod is offering a $100 gift certificate to one of our readers. Browse their selection of trucks, trains, & boats, musical instruments, natural and safe arts and craft supplies, organic dolls, and more and you'll be sure to find the perfect gift for any child in your life. Our review of select items is coming soon but some of our favorites from this Canadian company are the whimsical Favorite Animals wooden picture book (no worries if baby likes to gnaw on this book), the stylish Organic Soft Blocks, the artfully crafted Stacking Fire wooden puzzle toy, and this wooden airplane for future pilots, adventurers, and world travelers.
You won't mind when your kids leave these toys out in the living room. And if an unexpected relative drops by for the holidays, you can always switch the tags on the gifts and tell her baby's toy is really a sculpture.
Buy Toys and More from Natural Pod
Visit Natural Pod and use coupon code coupon code "MAMANISTA10" at check out to get 10% off. (vaild until December 5th, 2007)
Natural Pod has some toys listed as on back order but available for shipment in time for the Holidays. Because many of these toys are handcrafted and in limited supply, we suggest you shop early to avoid the Christmas rush.
Win a $100 Gift Certificate to Natural Pod
Natural Pod is kind enough to offer a $100 gift certificate as part of Mamanista's 12 Days of Giveaways. To enter for a chance to win, you must complete both of these steps:
Click here to find out how to share the fun. You only have to share the 12 Days of Giveaways once to be able to enter any or all of the twelve contests–you do not need to be a blogger to play! Just remember to visit again to comment on the giveaway posts individually.
Check out Natural Pod's great selection of natural and organic toys and products forliving and leave a comment on this post telling us at least one of the items you would like to purchase from Natural Pod. Remember to leave a valid e-mail or URL where we can reach you or leave a comment with a nickname and then let us know. Complete both steps by Wednesday, December 1, at 11:59 PM EST and you'll be entered for your chance to win!
Check out our Toys to Trust Guide to Gifts for even more safe and healthy choices.
Don't miss out on a single fabulous giveaway, hip review or amazing deal: subscribe to Mamanista! by e-mail.