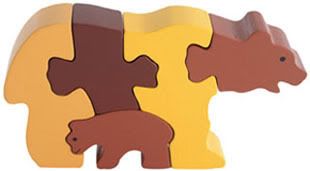 ImagiPLAY makes beautiful toys that inspire the imagination, encourage discovery, and promote positive values.
Children are born with an amazing capacity to learn through imaginative play. Open-ended toys provide a springboard for young minds.
Every one of ImagiPLAY's toys makes me want to be a kid all over again. One of the biggest joys of being a parent is the opportunity to experience the world through the eyes of my child–and I anticipate hours of enjoyment for the family with ImagiPLAY's wooden puzzles and play sets.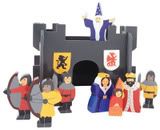 You would have thought it was Christmas for Daddy when we opened A Day in the Kingdom. The castle, royal family, archers, and knights provide the perfect backdrop for a child to invent scenes of adventure and intrigue. The chunky wooden figures are easy for pre-schoolers to grasp and the sturdy construction will endure even the most vigorous and active play.
The Bear and Cub puzzle is even more adorable in real life than on the website. The rich, warm tones compliment the tender pose of the mother and baby bear. With just a few large pieces, this makes a great first puzzle for toddlers, as well as a gorgeous nursery decoration. Eventually, you'll be able to pass these toys down to future generations.
ImagiPLAY's beauty is more than skin deep. Their corporate philosophy shows a deep commitment to children, communities, and the environment:
Every toy we produce is earth friendly, child safe and people kind. That is our commitment to our children and their planet.
From the materials, to the manufacturing process, ImagiPLAY is a company that is about building toy castles and a brighter future.
Buy ImagiPLAY Toys
ImagiPLAY Toys are available directly.
Many responsible toy retailers, such as Kazoo, Oompa Toys, BabyCenter, MonkeyBean Toys, and Our Green House, also carry ImagiPLAY. Check our Toys Coupon Codes for the latest discounts.
Win ImagiPLAY Toys

Imagiplay is offering three of their wonderful puzzles (Majestic Oak, Running Horse, and Number Snail) as a prize for one lucky reader as part of Mamanista's 12 Days of Giveaways. US Shipping Only for this contest. To enter for a chance to win, you must complete both of these steps:
Share:

Click here to find out how to share the fun. You only have to share the 12 Days of Giveaways once to be able to enter any or all of the twelve contests–you do

not

need to be a blogger to play! Just remember to visit again to comment on the giveaway posts individually.

Leave a Comment:

Explore ImagiPLAY's outstanding toys and leave a comment on this post telling us your favorite toy (besides the ones mentioned in this post). Remember to leave a valid e-mail or URL where we can reach you (OR use a nickname and then let us know). Complete both steps by Monday, December 3, at 11:59 PM EST and you'll be entered for your chance to win this prize!
Check out our Toys to Trust Guide to Gifts for even more safe and healthy choices.
Don't miss out on a single fabulous giveaway, hip review or amazing deal: subscribe to Mamanista! by e-mail.